I keep blogging elsewhere instead of here, so my own blog is looking quite thin at the moment. Sorry! Just to keep you going, here's an introduction to
His Majesty's Confidential Agent
that I wrote for fellow Accent writer, Jenny Kane. It appeared on her blog (
http://jennykane.co.uk/
) just before the book came out at the beginning of May.
My agent, back in the days when I had an agent, told me that historical novels were clearly my thing and that I should sit down and produce something new in that genre. This turned out to be easier said than done.
I was chatting to a friend that I knew from time spent in Argentina and she pointed out that there were lots of interesting characters from the early days of that country. I have loved my visits to Argentina and the idea of setting a novel there really appealed. So I started a fairly unsystematic search for interesting characters from 19th century Buenos Aires. And I came across James Burke.
I could only find one article about him that was written in English (and my Spanish is certainly not up to reading academic historical journals). It turned out that somebody had stolen the British Library's copy but they were able to dig out another in their reserve collection up in Yorkshire. When I finally managed to get my hands on it, James Burke turned out to be the ideal character for historical fiction. He was a real person and a real spy. His nefarious work meant that there aren't an awful lot of details about his life but we do have good reason to think that he was in Buenos Aires while the British were planning to invade South America during the Napoleonic Wars. He was also (a massive bonus for the novelist) something of a ladies' man. In the novel his conquests include a princess, a queen, and the mistress of a ruler I'm not going to mention here, because it would be a spoiler. The incredible thing is that these affairs all quite probably happened.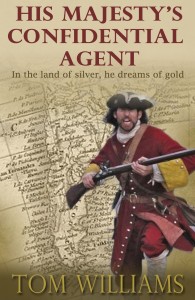 Once I started writing, I really enjoyed His Majesty's Confidential Agent. The details of Burke's life may be a bit uncertain, but the context within which his adventures take place is very clear indeed. I have made several trips to Buenos Aires and on some of them I was able to make a point of visiting buildings from the period when the story is set. Burke's adventures take him out of the town and into the country, so I spent a day on an estancia, where I was able to go out riding with the gauchos – a truly memorable adventure. I even recreated Burke's crossing the Andes by making the attempt out of season, as he does in the novel and, even though we had to turn back because the depth of snow, it was an unforgettable experience. It's only around a page of the finished book, but very definitely worth it.
His Majesty's Confidential Agent allowed me to write about a country I love during a fascinating period of history. And it's got spies and battles and duels and beautiful women and real queens and princesses and moments of humour and romance in between the plotting and bloodshed. It was fun to write. I hope you find it fun to read.